Education Trends
25 Ed Tech Predictions for 2021
Education technology may have come into its own during the pandemic. But will it remain front and center forever? Here, education and industry leaders alike offer their views on higher ed's future.
By Dian Schaffhauser
01/04/21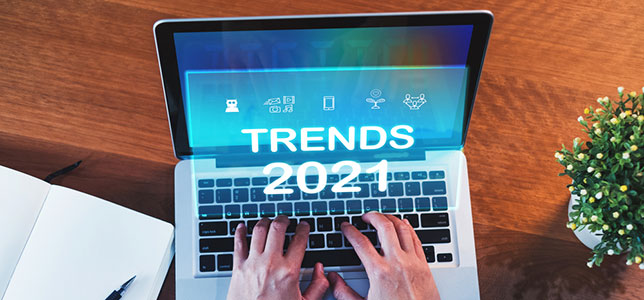 The year 2020 packed a punch unlike any other period in living memory. And while the impact of the COVID-19 pandemic will be felt for a long time to come, the start of this new year brings an opportunity for us to recharge our hope and energy. How will that play out for higher education, especially in the area of technology? We turned to a number of education and industry leaders to find out what they expect — or look forward to — in 2021. Here's what they told us.
1) We Will Build on What We've Learned
"I believe the spring semester will be one of anticipation for a return to normalcy — which will result in increased displays of frustration, impatience and exhaustion. I am hopeful that planning for the post-pandemic transition has already begun at many institutions, as this is an opportunity to be a bit more proactive than spring 2020's jarring pivot to virtual. I am also hopeful that no one considers simply returning to 'business as pre-COVID usual' — what a missed opportunity that would be.
"We've learned so much: Students, while missing interaction and personal connections, have enjoyed the flexibility of a remote option; staff have responded positively to space for an improved work/life balance; and faculty have been surprised at their appreciation for and commandeering of many features offered within learning technologies.
"I hope we build on what we've experienced this last year rather than simply race back to our perceived safe spaces. A year ago, resilience and adaptability were goals — look at us all now! The living definition of both! 2021 will see unparalleled appreciation for education technology — as a facilitator, as the glue that holds campuses together and as an experience enhancer."
—Paige Francis, Vice President for Strategic Initiatives, IT and CIO, University of Tulsa
2) HyFlex Will Provide Flexibility Day-by-Day
"One likely post-pandemic phenomenon is that we will see the hybrid flexible (HyFlex) pedagogical approach being widely adopted, combining face-to-face and online learning. Higher ed has quickly adapted to build or expand a technology infrastructure in classrooms, including workforce readiness, to support HyFlex models where each class session and learning activity is offered in-person, synchronously online and asynchronously online. The approach was developed with a focus on student flexibility, but the benefits also extend to faculty. For example, an instructor, along with some students, could attend class remotely, while other students join physically from a room on campus set up to allow for social distancing and spacing. This would open up new pathways for institutions to reach both traditional and non-traditional students (adult learners), offering flexibility on how to participate for each class and activity.
"The pandemic may turn out to be the catalyst higher ed needed to begin offering more flexible teaching and learning modalities at scale through leveraging the use of technologies and the unique advantages of online learning environment."
—JT Singh, Senior Associate VP and CIO, Information Services and Technology, West Chester University
3) Online Learning Will Get More Effective, More Robust
"Higher ed has been a leader in online learning, and the pandemic provided the opportunity to adapt and evolve that model at scale in a way that will have a lasting impact. Effective online learning is about more than posting assignments and Zoom lectures. As higher education institutions prepare for 2021, we will see an investment in technology, training and flexible curriculum that combines traditional classroom outcomes with certificates, stackable credentials and digital badges that will help educators reach students in new, exciting ways."
link