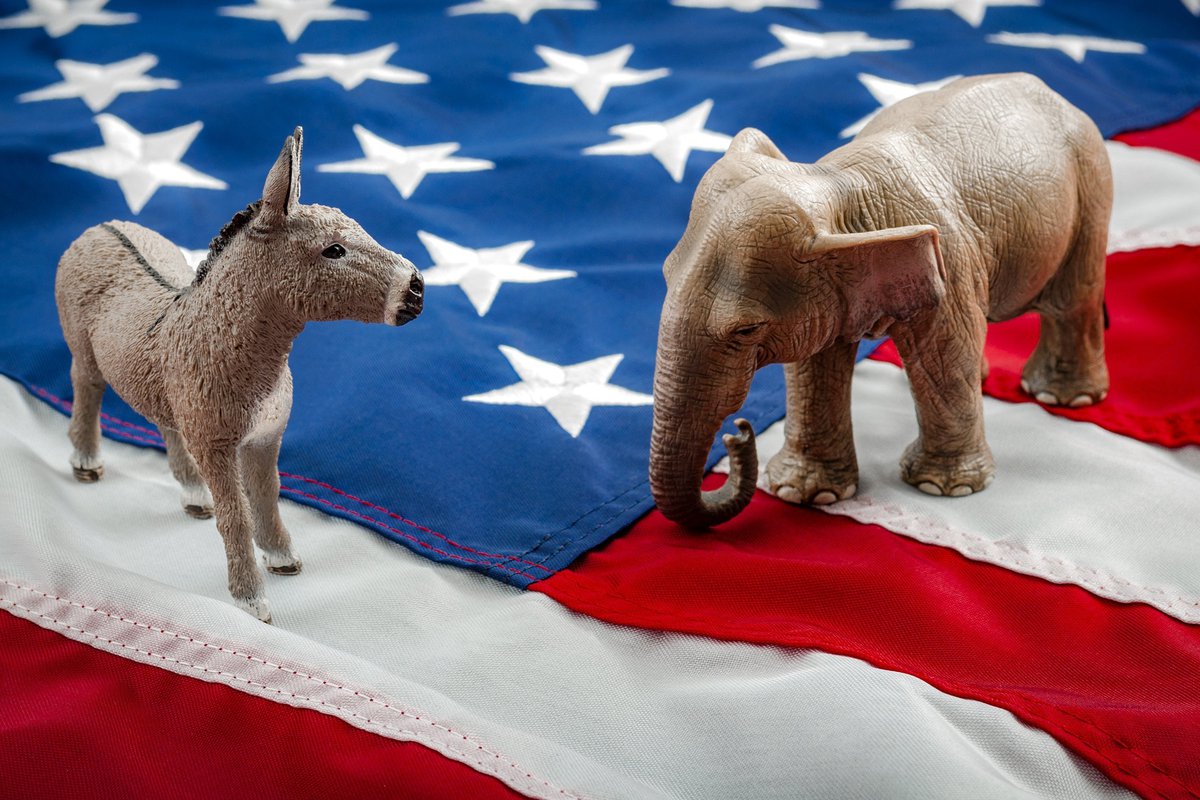 Beacon technology helps boost store foot traffic and drive sales. Below, we explore beacon technology retail strategies that retailers can use in-store.
Since the advent of e-commerce, brick-and-mortar retailers have consistently implemented new in-store technologies in a bid not only to revamp and revitalize the customer experience but to offer customers an immersive "omnichannel" experience.
Efficiency is key for the modern customer. From next-day delivery to same-day pickup, customers can't get enough of having their needs met with minimal effort required. Beacon technology takes efficiency to the next level by leveraging customer location data and combining it with useful push notifications — think discounts and promotions — sent directly to customers' phones.
Let's check out what beacon technology is in practice, its benefits, and the beacon technology strategies you can employ in your own store.
Overview: What is beacon technology?
Beacon technology was first introduced by Apple, way back in 2013, by way of Bluetooth. Bluetooth beacons, small hardware devices that are placed in stores, act as sensors that detect nearby smartphones.
As a proximity marketing strategy, retailers use mobile beacons that can both gather information about customer movements and send alerts to customers' phones to optimize and personalize the in-store experience.
Information on discounts, promotions, events, and more can be sent directly to customers' phones. This information is often highly-tailored and personalized to each individual customer.
However, for beacon technology to work, the customer must have the store's app downloaded on their phone and Bluetooth turned on and have consented to receive notifications.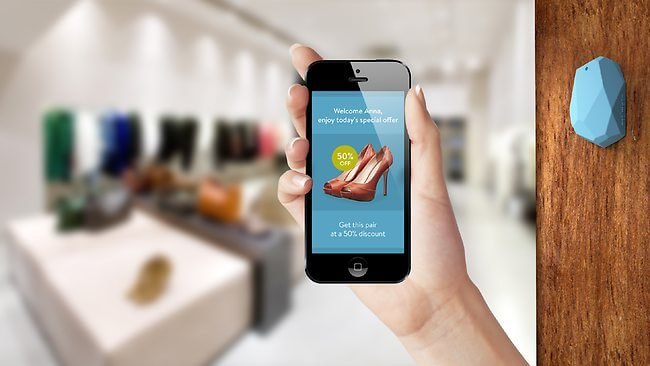 Beacon technology hardware is inexpensive and easy to install, and there are multiple types of hardware to choose from:
Standard beacons: These are usually the size of Wi-Fi routers and used for indoor tracking.
USB beacons: As the name suggests, these are deployed as USB flash drives.
Parent beacons: These are used to track other smaller beacons and store data in the cloud.
3 benefits of using beacon technology
Both retailers and customers can benefit from beacon technology in a range of ways:
1. Highly personalized customer experience
Since beacons are focused on customer location, retailers have the opportunity of sending highly personalized and targeted push notifications to customers' phones once they open the app.
Beacons, with micro-location technology, can detect what part of the store a customer is in and send offers aligned with this location. The beacon can also facilitate the delivery of offers or retailer promotions based on customers' past purchase behavior. While customers win a discount, you can win a repeat customer.
2. Captured customer insights
As retailers, it's important to know your customers inside out. What days are best for offering coupons or discounts? How long do customers spend in different parts of the store? What items do they typically buy together?
Beacons capture data that can help retailers analyze customer behavior and make in-store adjustments or changes that will drive sales and boost customer engagement.
3. Enhanced customer engagement
Beacons present an opportunity for not just enhanced customer engagement but better engagement. As beacon technology is used primarily for sending customers useful content such as deals, discounts, and offers, customers are much more likely to engage with the content consistently.
If a customer walks into your store one day and receives a 15% discount, they're much more likely to interact with your app in the future.
7 best beacon technology strategies to use in your retail store
Multiple retailers have successfully used beacon technology as part of their retail management strategies. Below we explore some beacon technology retail strategies you can implement in your own store to boost foot traffic and sales.
1. Help customers find the exact products they need
When customers enter a store with a shopping list or specific items in mind, they often want to find those products straight away. In-store signage can help, but beacon technology can go one step further and guide customers directly to the products they need.
Target, for example, uses beacon technology to map routes for customers to help them locate products on an aisle-by-aisle basis. Customers enter their shopping lists into the app, and the app will produce an automatic shopping plan for them, with products highlighted as pins on the app's store map.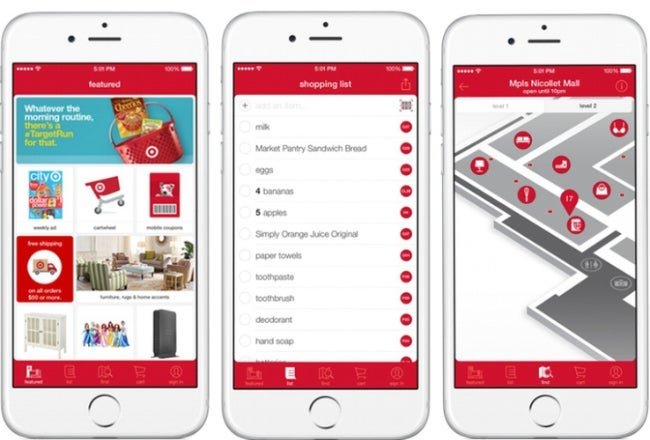 2. Let customers know if previously added products are in stock
Providing an omnichannel retail experience means delivering customers an integrated shopping experience. Beacon technology presents a perfect opportunity to bridge the gap between customers' online and offline shopping behavior.
Nordstrom, for instance, uses beacon technology to notify their customers via their app that an item they have in their mobile shopping cart is available in the store.
3. Offer in-store freebies
What better way to prolong a customer's in-store engagement and promote your products than with freebies? You can use beacon technology to send push notifications about freebies and other in-store customer benefits.
Sephora uses beacon technology combined with push-notifications to alert customers that they can claim a free 15-minute, in-store makeover.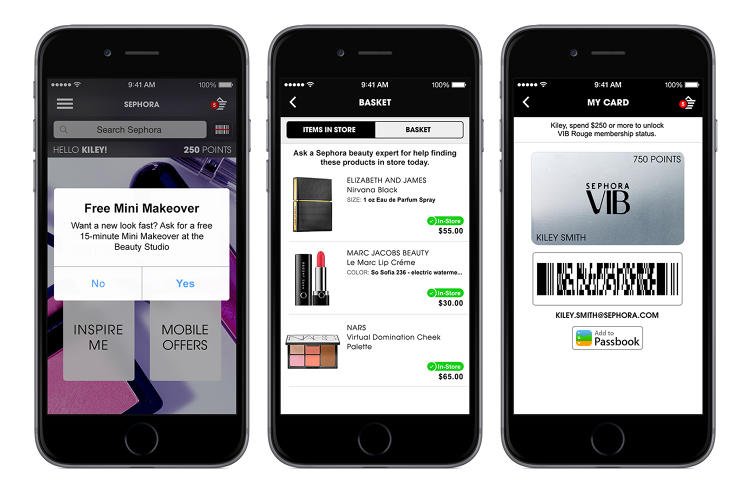 Sephora uses beacon technology to offer customers in-store makeovers and remind them about payment options. Source: Beaconstac.com.
4. Use beacon technology to boost your loyalty program
Urban Outfitters is a great example of combining beacon technology and social media to boost its loyalty programs and keep customers engaged in the store.
When customers enter an Urban Outfitters store, they are prompted to check in on social media which will then provide them with a personalized offer to use.
5. Entice customers to make a purchase
Beacon technology can be used to tempt customers into making a purchase. Say, for example, a customer has been in the bags and purses aisle for a while. This means that they are likely currently at the point-of-purchase (POP) stage of the customer journey — deciding whether to make a purchase or not.
Sending a push notification with a discount code to be shown at checkout or other offer on bags and purses might push the customer to finally purchase the product they were lingering on.
6. Track and analyze customers' in-store locations
Like Macy's, you can use beacon technology to track your customers' movements around the store to inform your retail merchandising, store layout, and retail inventory management plans.
Accessing real-time information on customers' movements within your store can give you insights on how they interact with products, and help you push promotional marketing content directly to their phones.
7. Notify customers of discounts, offers, and coupons
Instead of making your customers clip physical coupons, deliver promotions and coupons directly to their phone.
At its Duane Reade locations, Walgreens sends its customers coupons and discounts. Customers can digitally "clip" coupons and redeem with their smartphones. This helps influence customers' in-store purchase decisions.
A future beacon of the retail market
Beacon technology comes with low overheads and big advantages. Though it's been around for a while, retailers continue to use it to revolutionize the in-store customer experience. While customers benefit from a seamless and highly personalized shopping experience, retailers benefit from the wealth of customer data collected.
Given COVID-19's impact, this contactless digital technology provides an opportunity for retailers to adjust shopping experiences even further. Using intuitive retail solutions like beacon technologies alongside your retail management software solution can help propel the future of your retail store to success.
link