One of the main things to consider when buying a smartphone – especially one that costs close to $1,000/£1,000/€1,000 – is the quality of its cameras.
In one short decade phones and social media have destroyed the cheap digital camera market, and we now take pictures at every event and post them on the internet, for better or worse. Thankfully phone cameras are exceptionally good these days.
If you want to find the best phone camera then you've come to the right place. We fully test and review all the latest high-end, mid-range, and budget phones on the market, and camera quality is one of the main factors in deciding their final scores.
The very best smartphone cameras are inevitably found on the more expensive devices, but you can also get solid quality for less if you know where to look.
We assess megapixel count, dynamic range, ultra-wide lenses, zooms, low-light quality, night modes, and everything else in between to see where phone cameras shine, and where they could do better.
Because no phone is the same, the one at the top of this list might not be the best fit for you wants and needs. It could be the phone at number ten. This is because it's not just about the hardware of the camera lenses themselves that determines what photos and videos from a phone look like – different manufacturers apply different effects with software in their camera apps to improve images and give them a specific look.
You might prefer the look of Samsung photos to iPhone photos, or like the colours of Honor over Oppo.
Here's our rundown of the best camera phones you can buy.
Best camera phone 2023
1. Google Pixel 7 Pro – Best overall camera phone
Pros
Incredible versatile cameras
Excellent 5x zoom
Clever software tricks
RAW option
Cons
Huge phone
Sometimes photos are not true to life
Price When Reviewed:

From $899
The Pixel 7 Pro sees Google refining the design and features of 2021's Pixel 6 Pro, resulting in the best Pixel phone ever made. That happily means the 7 Pro's cameras are among the best ever on a phone.
We still think the Pixel, shot for shot, takes the best looking still images in most lighting conditions. Photos are well balanced with good colour reproduction and detail without oversharpening. The experience in the camera app is great, with great flexibility to shoot with the amazing 50Mp main sensor, the ultrawide, or a very capable 5x optical zoom lens.
The core sensors are great, but it's the software that improves even further. Zooming up to 10x with Google's Super Res Zoom smarts means hardly any loss in quality, and the clever Magic Eraser tool lets you (sometimes) successfully erase people and objects from photos to create a better scene. Better is the camera it is tuned to preserve people's correct skin tones, something other phones can struggle with – or worse, that the manufacturers haven't thought about.
Video is very good too, but really the Pixel is all about that 50Mp main lens and just how good images look, consistently. We take more pictures with a Pixel in our pocket, which is the biggest compliment you can give a phone camera. The price also gets it to number one as it's cheaper than the phones in our second, third and fourth slot.
Read our full
Google Pixel 7 Pro review
2. Vivo X90 Pro – Best main camera lens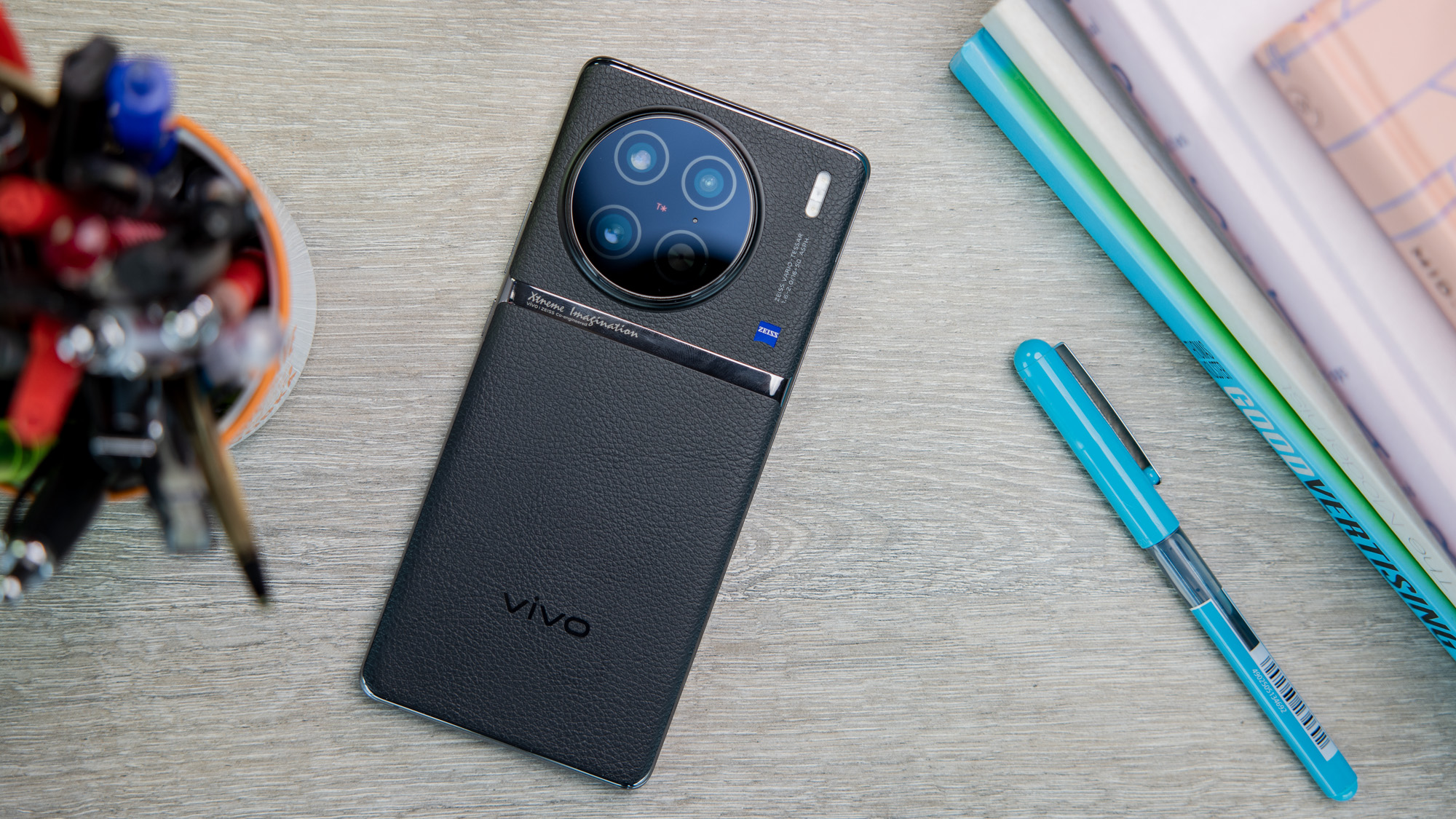 Pros
Best main camera in any phone
Fantastic fast charging
Great display
Cons
No periscopic zoom lens
Shaky software
Unreliable reverse wireless charging
Price When Reviewed:

Not available in the US
The most annoying thing about this superlative camera phone is that it is not officially available in the US or UK – but it is on sale in some European countries.
It's frustrating because this is an absolutely incredible camera – one of the first phone cameras on the market to use a 1in main sensor, which helps improve low light photography and image quality across the board.
Paired with Vivo's impressive V2 image processing chip, results are stunning. The large sensor creates a naturally shallow depth of field so you don't always have to rely on a software portrait mode – the shots get a softer background naturally like they would on a DSLR camera. There's also a Zeiss Natural Colour mode that dials back the saturation for overall colours that we prefer.
Paired with the capable ultrawide and 2x zoom lens you'll be pleased with all kinds of photos, though Google, Samsung and Apple all offer more than 2x optical zoom on their competing phones.
But the X90 Pro is all about its superlative main camera – you'll just have to be happy importing the phone if it's not sold in your country, and be OK with the phones less than polished software.
Read our full
Vivo X90 Pro review
3. Samsung Galaxy S23 Ultra – Most versatile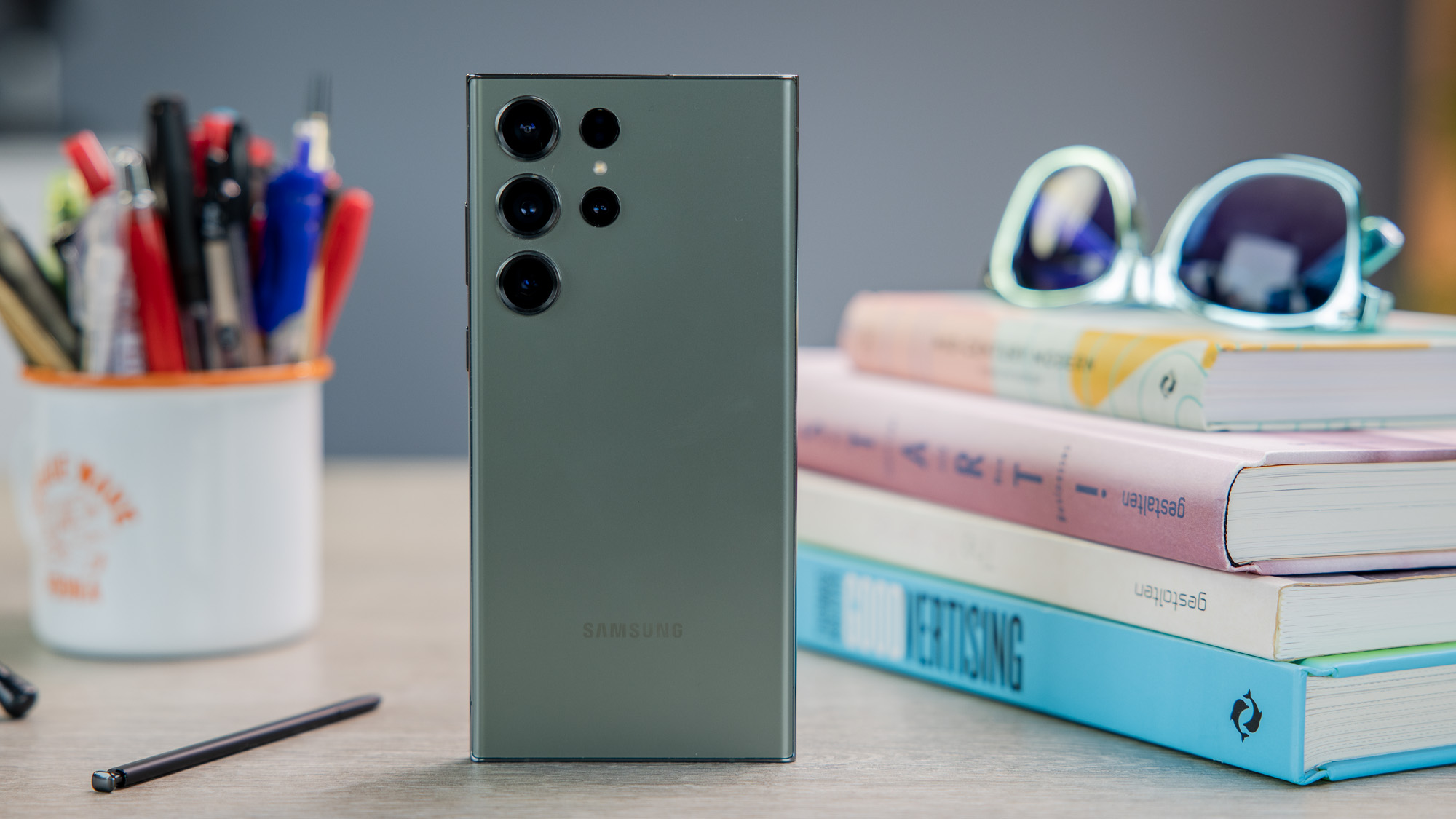 Pros
Outstandingly fast
Very good cameras
Excellent battery life
Lovely premium object
Cons
Slow 45W charging
Poor selfie camera
Huge premium object
Price When Reviewed:

From $1,199
The Samsung Galaxy S23 Ultra is a kitchen sink, every feature ever kind of phone, and that applies to the camera too. It has a 200Mp main lens that uses clever pixel binning tech to produce 12.5Mp images with incredible detail, but you can also shoot in full 200Mp if you want.
The Ultra handles all shooting conditions incredibly well with great low light performance and colour reproduction, though images are more saturated in colour than other phones.
The S23 Ultra has four lenses, with the main, ultrawide, 3x optical zoom and 10x optical zoom all equipped with auto focus. We found that fast moving objects such as pets regularly gave blurry images despite this, so you'll have to be patient, but this also occurs on other phones such as the iPhone 14 Pro.
A main downside to the S23 Ultra is its sub-par selfie camera. But overall its four lenses are capable of incredible photos and smooth, steady video, making it a top pick.
Read our full
Samsung Galaxy S23 Ultra review
4. iPhone 14 Pro – Best for video
Pros
Stunning 48Mp camera
3x telephoto
Superlative video
Cons
No real battery life improvement
No fast charging
Much more expensive in the UK
Price When Reviewed:

$999
It might not have our favourite still image lens – we reckon that's a toss up between the Pixel 7 Pro and the Vivo X90 Pro – but the iPhone 14 Pro has very good triple cameras that we struggle to fault.
It's the first time an iPhone has had more than a 12Mp main sensor, with a huge bump up to 48Mp. You can shoot at this resolution in RAW format, or rely on Apple's pixel-binning software technique that combines four pixels into one larger pixel to improve low-light performance and detail in a final 12Mp image. One small nitpick is the processing tends to over sharpen more often than we'd like.
Video is still head and shoulders above any Android phone with unparalleled processing and stabilisation that sometimes borders on the scarily good. Even four years ago we couldn't have dreamt of video this good being shot on a phone.
As well as the main sensor there are also ultra-wide and telephoto lenses, the latter with a 3x optical zoom that captures good detail and is great to punch in on scenes that need to be that little bit closer.
The 14 Pro is rounded off with a capable selfie camera nestled in the new Dynamic Island. It's an incredibly good camera set up that will serve you well for years to come.
Read our full
Apple iPhone 14 Pro review
5. Xiaomi 13 Ultra – Best cutting edge camera tech
Pros
Fantastic flagship performance
Extraordinary quad rear camera
Beautiful LTPO display
Vegan leather finish
Cons
It big
Selfie camera isn't as good as the others
Expensive
Price When Reviewed:

Unavailable in the US
Just like the Vivo X90 Pro, the Xiaomi 13 Ultra is not an easy phone to buy. It's only available in limited quantities in Europe, or on full sale in China.
But if you can import a European model to get full Google Play Store integration, you'll be rewarded with the incredible 1in sensor – the same Sony IMX989 found in the Vivo X90 Pro.
The trick with the Xiaomi is its 50Mp 1in sensor has a variable aperture that can physically change between a fast f/1.9 or a slow f/4.0 setting. The former is great for indoor and low-light shots, where the latter has an increased depth of field that is better for landscapes or wider shots – just like on a manual camera.
Like a lot of modern phone camera, the 13 Ultra saturates colours in images, but they look spectacularly detailed and well balanced. Crazily, the other three lenses on the phone are also 50Mp, though none are as big as 1in. There's an ultrawide as well as 3.2x and 5x optical zoom.
Add a decent 32Mp selfie camera and this is a true do-everything camera phone – it's just expensive and hard to find in many countries. We also don't have as much faith that Xiaomi will keep the phone's software updated for at least five years, whereas Google, Apple and Samsung will with their rival handsets.
Read our full
Xiaomi 13 Ultra review
6. Google Pixel 7a – Best value
Pros
Phenomenal camera for the price
Excellent Google software
Strong performance
Water-resistant
Cons
Slow charging
Wireless charging is unreliable
Not as fast as the Pixel 7
Only 90Hz display
Price When Reviewed:

$499
If the phones above in this list are too expensive or simply have too many camera lenses, go for the Google Pixel 7a. It's more affordable and has a main camera that is every bit as good as the main camera on the Pixel 7 Pro.
It also has a 13Mp ultrawide lens for wider shots, which is good, but colours aren't as accurate as with the main 64Mp lens. You get all the same software and image processing smarts as on Google's more expensive phones, plus the 7a is the first Pixel A phone with a 90Hz refresh rate screen and wireless charging – this is pretty much a flagship phone at this stage, for hundreds less.
Performance is solid, the phone is fully waterproof, and it will get software updates until 2028. If all you want is a point and shoot main camera on your phone, this is the cheapest way to invest in a real quality product.
Read our full
Google Pixel 7a review
7. iPhone 14 – Best for selfies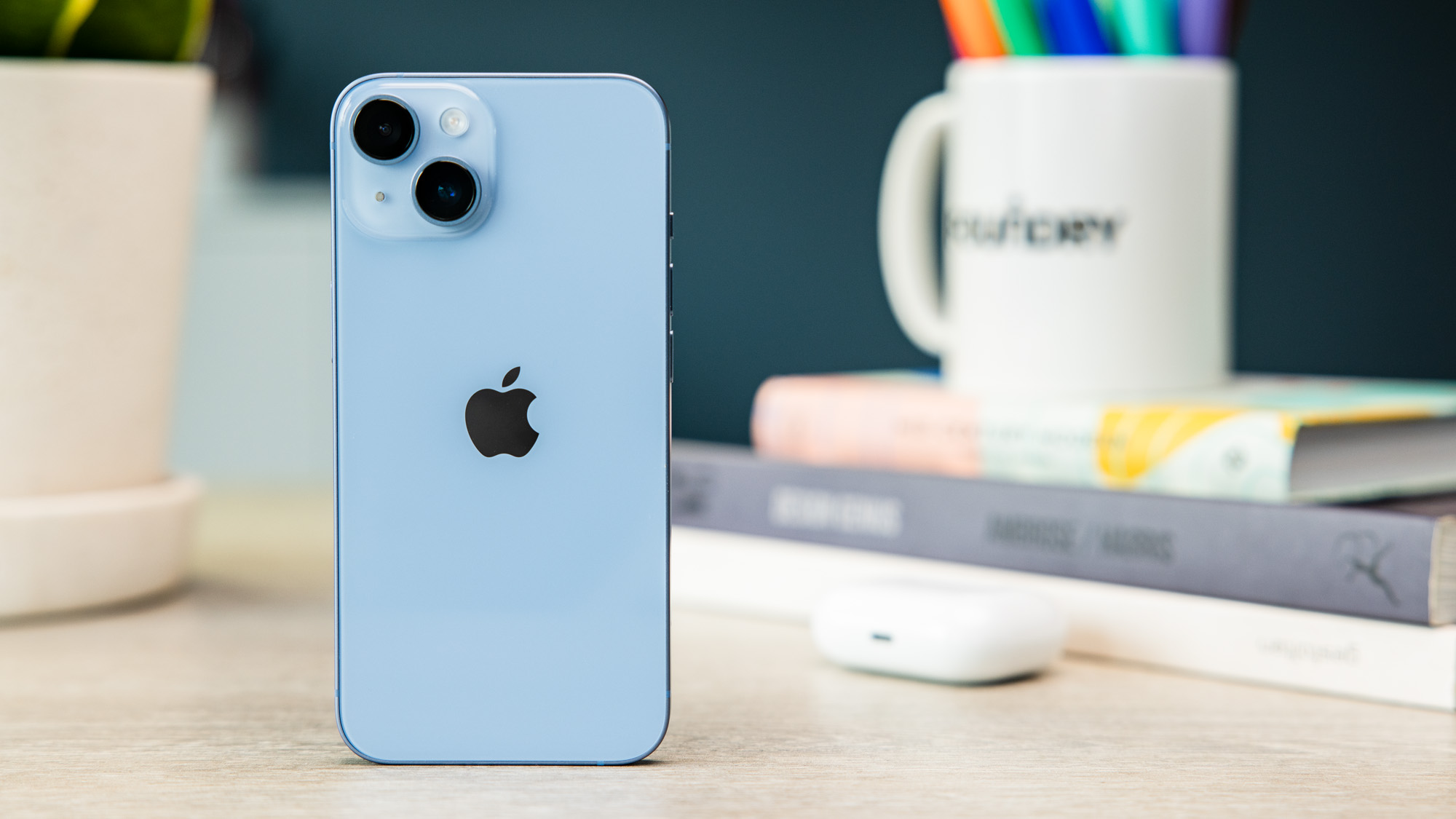 Pros
Superb dual cameras
Excellent processing
Top drawer selfie camera
Cons
No telephoto
No RAW photo capture
Price When Reviewed:

$799 (128GB) | $899 (256GB) | $1,099 (512GB)
The iPhone 14's cameras have very minimal gains over the still-excellent iPhone 13, but there's a couple of new things. For the first time on an iPhone, the selfie camera has autofocus, which is great for selfies but also for video calls to keep you looking sharp.
Action Mode in the video settings is also amazing, creating a stabilisation never before seen on smartphones. It's spookily good (and also included on the iPhone 14 Plus and iPhone 14 Pro models).
The main camera sensor here is 12Mp, not the updated 48Mp sensor on the iPhone 14 Pro, but unless you are really pixel peeping it's quite hard to tell the difference. The iPhone 14 still produces excellent day and night shots with good detail and colour, though it's annoying Apple keeps the ability to shoot in RAW confined to the Pro line.
There's no telephoto lens here either, so if you want to zoom in on things it's not the best choice. Thankfully the ultrawide lens is solid and lets you capture more of a scene when needed and adds some welcome flexibility to shoot video over two lenses.
Read our full
Apple iPhone 14 review
8. Samsung Galaxy S23 – Best small premium option
Pros
Premium compact build
Slick performance
Improved battery life
Solid OS support
Cons
Limited upgrades
Slow wired charging
Pixel 7 is far cheaper
Price When Reviewed:

From $799
If you want a smaller, premium Android phone with great cameras and long term software support, the regular Galaxy S23 is the best one going. It has the same Snapdragon 8 Gen 2 and top tier performance as the S23 Ultra but costs less.
It still packs in three lenses with main, ultrawide and 3x optical completely a very capable package. The 50Mp sensor is very solid, handling most shooting situations with ease. IF you enjoy Samsung's saturated social media-tinged photos then it's an excellent option, and in 2023 Samsung's One UI software is constantly improving.
Samsung's video chops are also great, and you can even shoot in 8K. Normal 1080p video is perfectly good though, and steadier than older models as the company slowly catches up with Apple's superlative iPhone video quality.
For a small phone battery life is also excellent. We think the phone is a tad overpriced but if you can find a good deal then snap it up.
Read our full
Samsung Galaxy S23 review
9. Samsung Galaxy Z Fold 4 – Best foldable
Pros
Much improved cameras over Z Fold 3
Same 50Mp main lens as S22
Impressive dynamic range
Cons
Under-display inner camera is bad
Price When Reviewed:

From $1,799
The expensive folding Samsung Galaxy Z Fold 4 gets a spot in this round up because, if you want a folding phone, Samsung is the brand to go for and this model has the best cameras. It's a big improvement over 2021's Z Fold 3.
The Fold 4 has a mish-mash of cameras, sporting the same 50Mp main and 10Mp telephoto sensors found on the Galaxy S22 and S22 Plus as well as the 12Mp from the Fold 3. This means the folding phone/tablet has superb photo and video chops with excellently detailed results from the 50Mp sensor the main draw here. Low-light performance is very good – combining the great rear lenses with the Fold 4's superior chipset and user experience make this the one to pick over the Galaxy Z Flip 4 if cameras on a foldable are your priority.
But the under-display 4Mp camera on the inner large display is really bad, and Samsung should not have sacrificed its quality in trying to hide it. Also if you want hands down the best cameras on any foldable, the one on the Huawei Mate X2 are better than the Fold 4 – but thanks to Huawei's lack of Google apps and service support, the Fold 4 remains our folding photo pick.
Read our full
Samsung Galaxy Z Fold 4 review
10. Huawei P60 Pro – Most innovative phone camera
Pros
Incredible camera for low-light
Stunning and durable build
Great battery life
Cons
Frustrating software
No 5G
Rococo Pearl finish more expensive
What a shame that the Huawei P60 Pro does not natively support Google services or the Play Store – a common Huawei issue – because this is one of the best camera phones you can buy otherwise.
The P60 Pro has a ten-stop physical variable aperture on its 48Mp main lens allowing you to manually adjust how much light is let into the lens, just like on a traditional camera. It's cool, but it is a slight gimmick as results don't vary wildly.
Thankfully, those results are always incredibly good. Low light and day time shots are stunning, with processing and detail to match the Pixel 7 Pro and the 1in sensors on the Vivo X90 Pro and Xiaomi 13 Ultra.
You also get the obligatory ultrawide with a 3.5x optical zoom lens too. The latter is amazingly good, and one of the best optical zooms on any phone at the moment. It's officially on sale in the UK and Europe so if you can do without Google, this is a great phone to go for.
Read our full
Huawei P60 Pro review
FAQ
---
1.
How many lenses do you need?
It depends what kind of photos you want to take on your phone. For close up, point and shoot pictures of people, pets, and landscapes then you might only need one.
But most phones have at least two lenses on the back these days. This is usually a superior main lens for still shots and video, and an ultrawide angle lens for taking in more of a scene that you're closer to like a building or group shot.
2.
Do you need a telephoto lens?
Some phones have three or four lenses – the one or two extra are usually telephoto lenses than can zoom in to subjects without loss of quality to a certain level. For example, the iPhone 14 Pro has a 3x optical zoom lens so you can zoom in to a 3x level – if you zoom beyond that, the phone is using digital zoom, which degrades in quality.
The regular iPhone 14 has no telephoto lens, so all zoom is done digitally. Check the specs of the phone you are interested in to see what lenses it has.
3.
Do megapixels matter?
A higher megapixel doesn't always mean better. It can sometimes be an indication, but not always.
Smartphones have necessarily tiny lenses in them, so phone companies have created software to improve the final image you get after you press the shutter. Software is also used for common features like portrait modes to create a blur effect. Read on to find out more.
4.
What is image processing?
Every smartphone camera uses software to process the image you've just taken to improve it. This usually involves sharpening the image, boosting, or saturating the colours to make them 'pop' more, and improving the high dynamic range (HDR) to make the photo look generally better than it might otherwise.
It's hard to know if a phone camera will be good just by reading the spec sheet, which is why camera quality is one of the main things we assess in Tech Advisor's phone reviews. Click through to the full reviews of the phones in this list to see image samples and our detailed opinions.
5.
What is pixel binning?
Some phone cameras, like the Galaxy S23 Ultra's 200Mp main lens, can take photos at full resolution. But on that phone by default images are 'binned' down to 12.5Mp from 200Mp.
The higher megapixel count in this instance captures more image data but uses it to produce a final image with a smaller file size. This creates easily shareable, social media friendly images, but also is a good way for phone cameras to combine image data with image processing to make the best possible image.
A 12.5Mp pixel binned image on the S23 Ultra will very likely be better than a straight 64Mp image from a mid-range phone that doesn't use pixel binning.
link