By Warren Wilson
Law enforcement is seeing a dramatic increase in calls for subjects in crisis. Those calls range from people expressing suicidal ideations to armed hostage-takers. Effective de-escalation on these calls is critical.
The basic steps to de-escalation are to make contact, build rapport and influence behavior. We can't even attempt de-escalation until we can safely make contact with the person in crisis.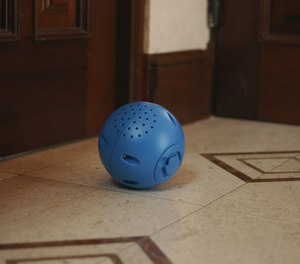 Throw phones
We used to make contact in these situations with "throw phones." When there was a barricaded suspect, it was SWAT's job to port (make a hole via a door or window) in the structure and physically throw a ruggedized corded phone inside. The suspect would then, in theory, pick up the phone and talk to the negotiators.
I never enjoyed the thought of deploying the phone. Partially because of the team's necessary exposure and proximity to the house, which we had to do on most barricades anyway while disconnecting the landline and electric service, but mostly because of the telltale cord we had to drag along behind us. It made a stealthy approach that much more difficult since a suspect inside the house simply had to visually trace the cord back to the approach team's precise location. The cord also limited how far away the negotiators could be from the negotiated party. Finally, it divulged the negotiator's position allowing family or friends of the subject to interrupt the process.
These limitations coupled with the ability for law enforcement agencies to access almost anyone's cell phone number pretty much killed that technology.
The problem
Still, there are some drawbacks to negotiating with someone who has an open cell phone.
Often these incidents are started by interaction with other people, mostly family. Continued interaction between the barricaded person and those with whom he or she is in conflict exacerbates the situation. I've seen this happen on multiple calls.  
In the landline days, we would just shut off the business or residential phone line. That made the throw phone the occupant's only mode of communication and law enforcement their only contact.
There might be a way to get back to that; especially, considering most cell companies will comply with an emergency service disruption request from law enforcement.  
BRINC
BRINC is an interesting company founded in response to the 2017 Las Vegas mass shooting that claimed 60 lives. BRINC's innovative owner, Blake Resnick, first invented a drone called LEMUR S that Resnick believes will help resolve situations like that one more quickly and therefore save lives.  
BRINC Ball
BRINC's next public safety product is the BRINC Ball. It's an interesting device I would describe as a hands-free throw phone. Watch a video of the device in action here:
This ruggedized speaker and microphone is in the shape of a 4.9-inch, 1.8-pound ball that can be thrown or rolled almost anywhere. The device can withstand drops from 10 feet onto concrete. The microphone has an audibility range of 60 feet while the microphone can hear up to 100 feet away. This two-way remote communication device does not require an app. The user simply calls the number from any cell phone and is automatically connected. The person on the other end cannot hang it up as there are no external controls.
Features
The user can control volume, microphone sensitivity or view battery status, or GPS location via pre-set text message commands. The BRINC Ball battery – which sports five days of idle time and 24 hours of talk time – charges by a simple USB-c port. The unit requires no training to use and is water and tamper-resistant. The BRINC Ball uses 4G service and has pinpoint GPS capability. That means the user can see almost exactly where the Ball is within a few feet. It has a lanyard ring that can be used to attach a cord if needed.
Public safety through technology
Law enforcement is increasingly embracing technology to enhance officer and public safety. Think about how far we've come. How many lives have been saved by pole cameras, infrared cameras and drones? BRINC Ball is the latest iteration of products to greatly enhance the safety of our cops and our communities.
---
About the author
Warren Wilson is a captain, training commander and rangemaster with the Enid Police Department in Oklahoma. He is a former SWAT team leader, current firearms instructor and writer. He has been a full-time law enforcement officer since 1996.

link