Start every business day with our analyses of the most pressing developments affecting markets today, alongside a curated selection of our latest and most important insights on the global economy.

Asia's Energy Security
Hundreds of millions of people in Asia were lifted out of poverty in recent decades due in no small part to cheap and secure energy. Today, however, Asia's energy security faces a barrage of challenges. Just when Asia appeared to be recovering from COVID-19-induced economic doldrums, inflation gripped the global economy, and Russia invaded Ukraine, sending shockwaves through energy markets and pushing Asian economies into a chaotic balancing act on the fulcrum of disruption and decarbonization.
Many countries in Asia spent decades substituting oil with cleaner fuels in power generation. However, supply disruptions and high prices are prompting the idling of gas-fired generation, the resurgence of dormant oil-fired capacity and gas-to-oil switching. This makes economic sense, given heavily discounted Russian crude, but it's bad news for emissions reduction goals.
Asia is the top importing region for oil and gas, much of which comes from the Middle East. Asia's reliance on Middle Eastern crude is in flux as the region's imports of cheap Russian crude rise, although Asia is far from monolithic in this regard: China and India are importing more Russian crude, but Japan and South Korea are importing less. Still, Russian crude is finding a place in Asia, and, according to S&P Global Commodity Insights, this trend is likely to continue as long as it's within legal bounds.
Several factors complicate a complete rerouting to Asia of Russian crude exports once bound for Europe. These include the high legal risk of carrying sanctioned products and rising voyage times as Russia's reliance on smaller ships creates a bottleneck. Although highly discounted Russian crude is attractive, importers are hedging between discounted prices and pending sanctions.
Middle Eastern suppliers have historically provided most of China and India's crude, but Russia replaced Saudi Arabia as China's top supplier and is quickly increasing its share of India's imports. Nevertheless, China and Saudi Arabia continue cooperating on energy security, and state-run companies from both countries seek opportunities to collaborate. China and India's demand is forecast to rebound in 2023, and where their crude comes from appears to be of less concern to the countries than its price and reliability. This may signal emergent competitive supply-side dynamics.
Competitive dynamics are also emerging in liquefied natural gas markets in the wake of volatility and insecurity. According to S&P Global Commodity Insights, competition for flexible LNG cargoes is likely to intensify between Europe and Asia, given the potential for Russia to further reduce gas supply to Europe. Most of Asia's seaborne LNG demand is linked to oil prices, and high prices create downward pressure on demand, decreasing spot procurement. However, S&P Global Commodity Insights expects spot demand to bounce back in Japan, South Korea and, to a lesser extent, China, reflecting greater competition for LNG.
Utilities, power generators and gas importers in Asia are preparing for supply disruptions, implementing contingency measures such as procurement strategies, load shedding, consumption restrictions and electricity and gas rationing to essential services. 
Volatile energy markets and shifting geopolitical currents are creating difficult circumstances for sustainability in Asia, a culturally and economically dynamic region that could lead the world economy if it can secure energy flows in an increasingly turbulent market.
Today is Tuesday, November 8, 2022, and here is today's essential intelligence. 
Written by Wyatt Scott.
Economy
---
Economic Snapshots Of The Battleground States In U.S. Midterm Elections
One of the main issues for voters in our seven swing states as they head to the polls this Election Day is the U.S. economy. Since the pandemic-induced economic decline of 2020, most states in the South and West have recovered fairly quickly, and, indeed, have been thriving; but recovery in the Northeast and Midwest has been slower and more variable. In addition to post-2020 economic recoveries, voters are now also looking ahead to a potential recession, and how well their state is positioned to weather 2023 will likely loom large on November 8th.
—Read the article from S&P Global Market Intelligence
Access more insights on the global economy >
Capital Markets
---
GCC Banks Will Enter An Uncertain 2023 On Solid Footing
S&P Global Ratings believes that the earnings performance of banks in the Gulf Cooperation Council (GCC) will recover almost to pre-pandemic levels in 2022, thanks to the economic recovery. Banks are also getting a boost from high oil prices, improving confidence, and for some countries — specifically Saudi Arabia — large government-sponsored projects.
—Read the report from S&P Global Ratings
Access more insights on capital markets >
Global Trade
---
Russian Oil Exports Hold Steady In October Despite Looming Sanctions
Russian seaborne exports of crude and oil products were little changed on the month in October after an increase in crude flows despite incoming EU sanctions were offset by a fall in product exports from Russian ports, according to tanker tracking data. Seaborne exports of Russian crude rose to 3.09 million b/d in October, according to data from S&P Global Commodities at Sea, up 3% on the month and just below the pre-war average of 3.1 million b/d in January and February.
—Read the article from S&P Global Commodity Insights
Access more insights on global trade >
Sustainability
---
COP27: U.K. Announces Further Funding For Clean Energy Innovation
The U.K. has announced an additional GBP65.5 million ($74.4 million) in grant funding for the for the Clean Energy Innovation Facility, the U.K. government said in a statement late Nov. 6 at the launch of the UN Climate Change Conference in Sharm el-Sheikh, Egypt. The fund, led by the government's Department for Business, Energy and Industrial Strategy, provides grants to researchers and scientists in developing countries to accelerate clean technology, it said.
—Read the article from S&P Global Commodity Insights
Access more insights on sustainability >
Energy & Commodities
---
Listen: Midterms Could Bring Early Wave Of Republican Energy Policy Signaling
High energy prices and inflation have played a front-stage role in U.S. election politics this season, with control of the U.S. House and Senate at stake in the Nov. 8 voting. S&P Global senior editor Maya Weber caught up with American Exploration & Production Council CEO Anne Bradbury after the annual North American Gas Forum organized by Energy Dialogues to discuss what the election results could mean for the US natural gas sector.
—Read the article from S&P Global Commodity Insights
Access more insights on energy and commodities >
Technology & Media
---
When Will The Heartland Embrace Electric Vehicles?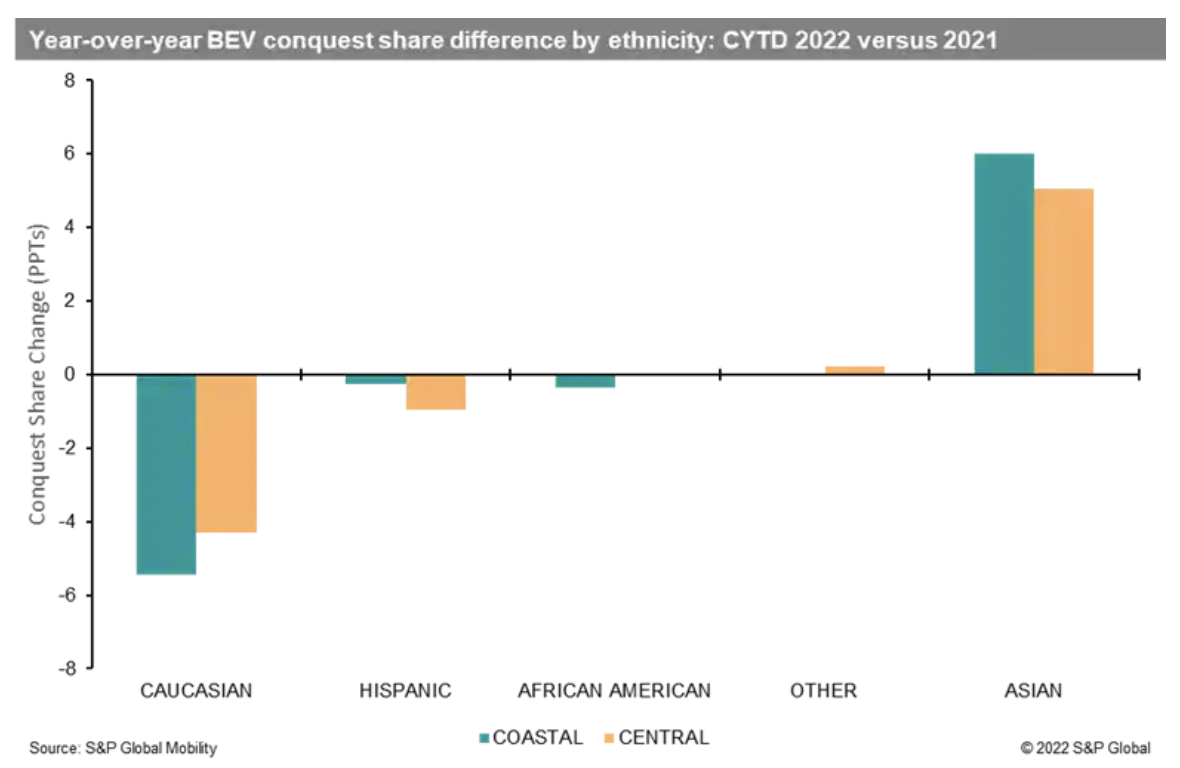 With USD5 billion in electric vehicle charging network funds (and more to come) available under the Bipartisan Infrastructure Law, states are lining up for their share of federal largesse. However, outside of the large coastal cities, retail registrations of EVs have yet to take hold, according to new analysis from S&P Global Mobility. The top-eight EV markets in the U.S. are all in coastal states and represent 50.5% of total EV registrations in 2022. The greater Los Angeles and San Francisco metropolitan areas alone account for nearly one-third of total share of the U.S. EV market.
—Read the article from S&P Global Mobility
Access more insights on technology and media >
link