My smartphone journey began in 2015 with the Redmi 1S, a Rs 5,999 handset that despite its modest specifications was a delight to use. However, times have changed and that segment has almost vanished due to soaring component costs and inflation. As people upgrade their phones less frequently, they also spend more on premium devices, and brands are catering to this trend with more expensive phones.
I have also bought pricier phones lately, all above Rs 20,000, and I suspect I am not alone in this. That's why I was curious to try the Moto E13 – Motorola's most affordable phone in a long time – and use it as my primary device for a week, just to see what it'd feel like and whether entry-level phones are still worth it.

Below, I'll be answering some of the key questions about budget phones, using the Moto E13 as the benchmark.
What's the design like?
The phone feels surprisingly solid in the hand. (Image: Zohaib Ahmed/Indian Express)
I hadn't expected the snazziest of designs from a Rs 6,999 phone, but what I pulled out of the box still was a pleasant surprise. The Moto E13 is one well-built device and I even mistook its frame for being metal (it's actually plastic). The plastic back panel has a matte finish, and it also felt solid with no flex.
The only giveaway of its low price was the large bezel at the bottom. Otherwise, it was hard to tell it apart from more expensive mid-range phones by the in-hand feel. At 180g, it was also comfortable to hold and use.
Is it possible to get used to 60Hz?
The jump from 60Hz to 120Hz is a major one and it's very difficult to downgrade to anything lower than 90Hz without making peace with jitters. Toward the end of a week on the Moto E13's 60Hz panel, I was still missing the 120Hz display of the Vivo V27 Pro and stutters continued to be noticeable. However, a 60Hz user will likely feel no change when they switch to the Moto E13.
Is it possible to get used to LCD after using AMOLED?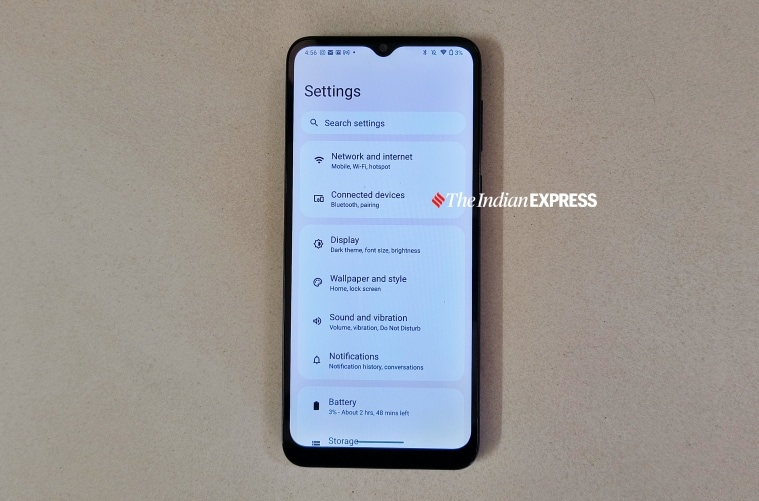 The Moto E13's front is occupied by a 60Hz 720p LCD panel, surrounded by thick bezels. (Image: Zohaib Ahmed/Indian Express)
The refresh rate downgrade is a matter of objective comparison, but the display quality is slightly more subjective. AMOLED displays are a delight to look at, with their bright and vivid colours, but I adapted to the lower resolution 6.5-inch 720p screen on the Moto E13 after a week. The only drawback was the poor visibility under sunlight, which is a common issue for LCD screens.
When it comes to movies, you'd be okay with day scenes, but car chases filmed at night do not look as contrasty due to the lack of deep blacks.
Are the cameras any good?
The Moto E13 comes with a single 13MP camera at the back. It's a hit or miss – as long as the lighting is adequate, you land yourself shots that look okay. However, zooming in reveals a lack of detail.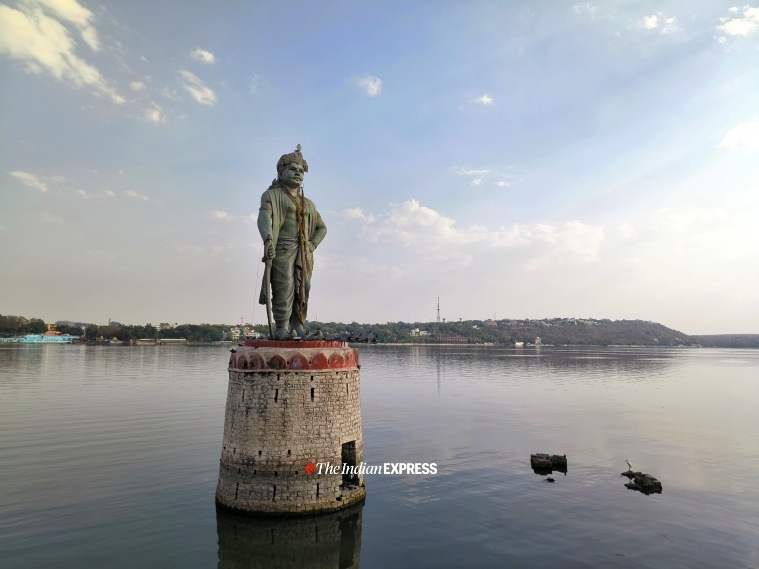 An Instagram-worthy click as long as you don't zoom in. (Image: Zohaib Ahmed/Indian Express)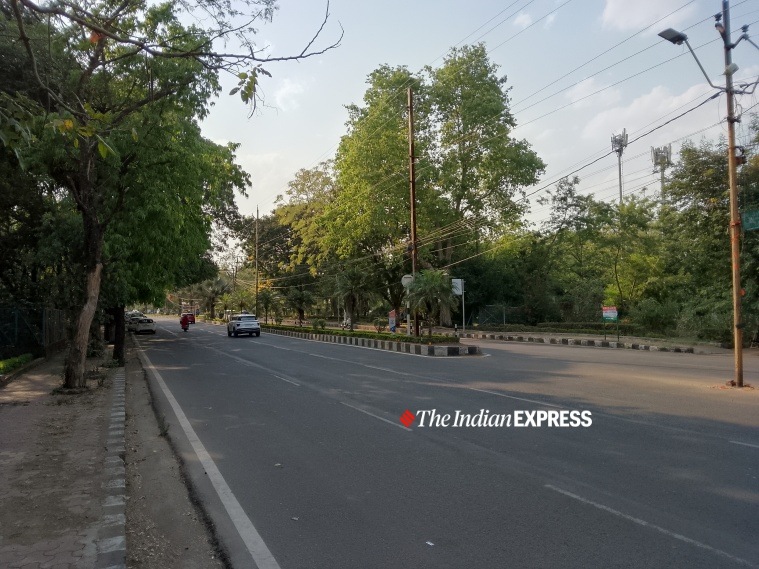 An overall well-handled shot. (Image: Zohaib Ahmed/Indian Express)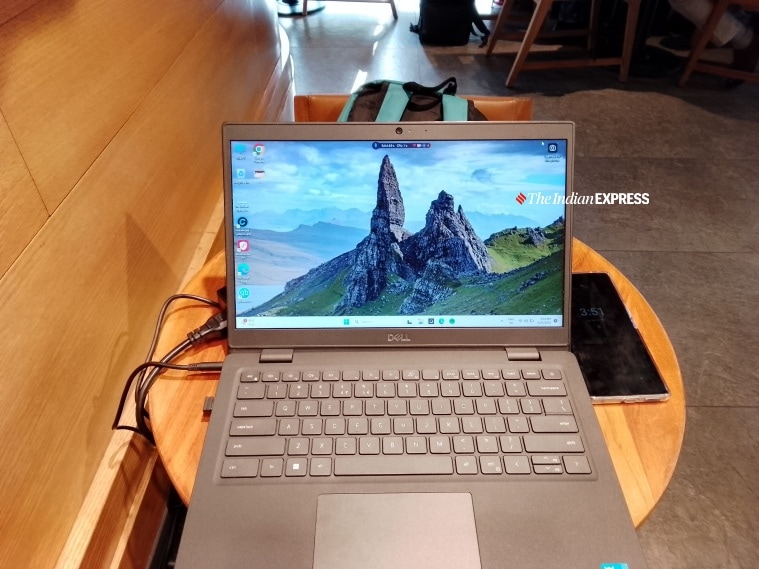 The laptop is overexposed in this indoor lighting test. (Image: Zohaib Ahmed/Indian Express)
As the sun sets, the camera quality gets increasingly worse. The 5MP front camera suffers from low resolution and contrast, but it is acceptable for the price.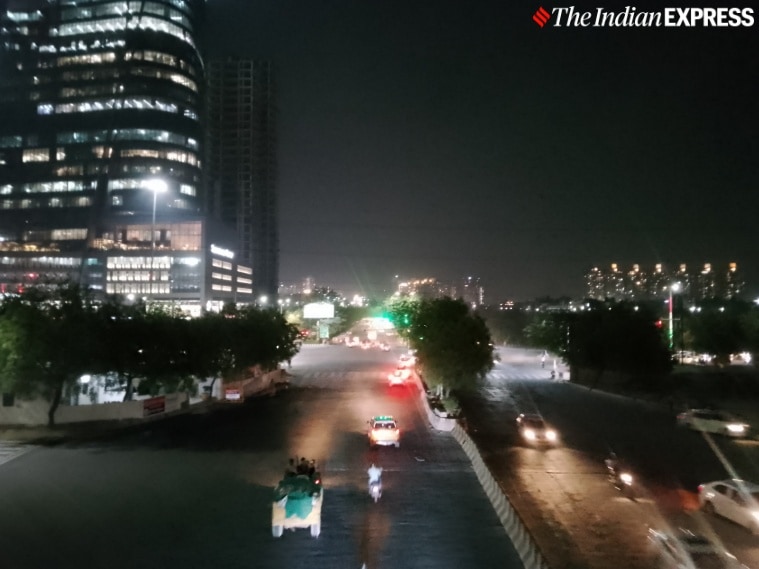 Low-light shots are barely usable. (Image: Zohaib Ahmed/Indian Express)
Does a weaker processor mean better battery life?
The less power-hungry Unisoc T606 does translate to small battery gains as far as I could tell, but it wasn't anything substantial. The phone gave over 8 hours of screen-on time, which though is pretty great generally speaking, isn't exactly over and above what mid-range phones offer.
How slow is 10W charging?
With a tiny 10W charging brick that is far behind the market's fastest (~200W), the Moto E13 takes nearly 3 hours to reach full battery. It's smarter to charge overnight with this one. However, 85% takes 'only' 2 hours, so a couple of hours of top-up should be more efficient.
On the plus side, the Moto E13 does not skimp on USB Type-C connectivity despite its low price.
Is 4GB ram sufficient?
I was lent the 4GB RAM variant, so the phone handled multitasking pretty well and lags didn't worsen as I increased the number of concurrent apps. For instance, CODM remained in the memory when I switched to another app and resumed the game after 5 minutes.
Is gaming possible?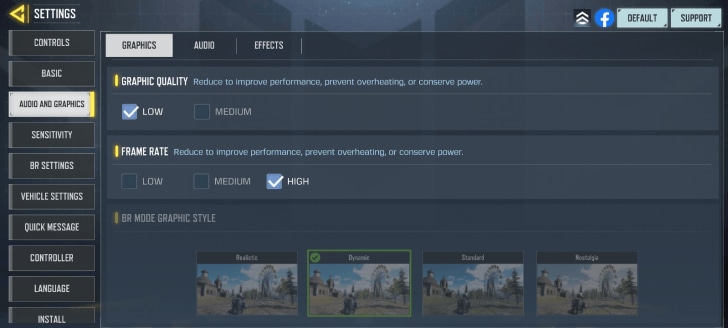 Higher settings on CODM are inaccessible on the Moto E13. (Express photo)
As long as you stick to the lowest graphics wherever possible, games will run just fine. I did experience some lags on CODM but they weren't deal-breaking. The phone also barely seemed to heat up, probably because of the less demanding processor.
What features does Android Go miss out on?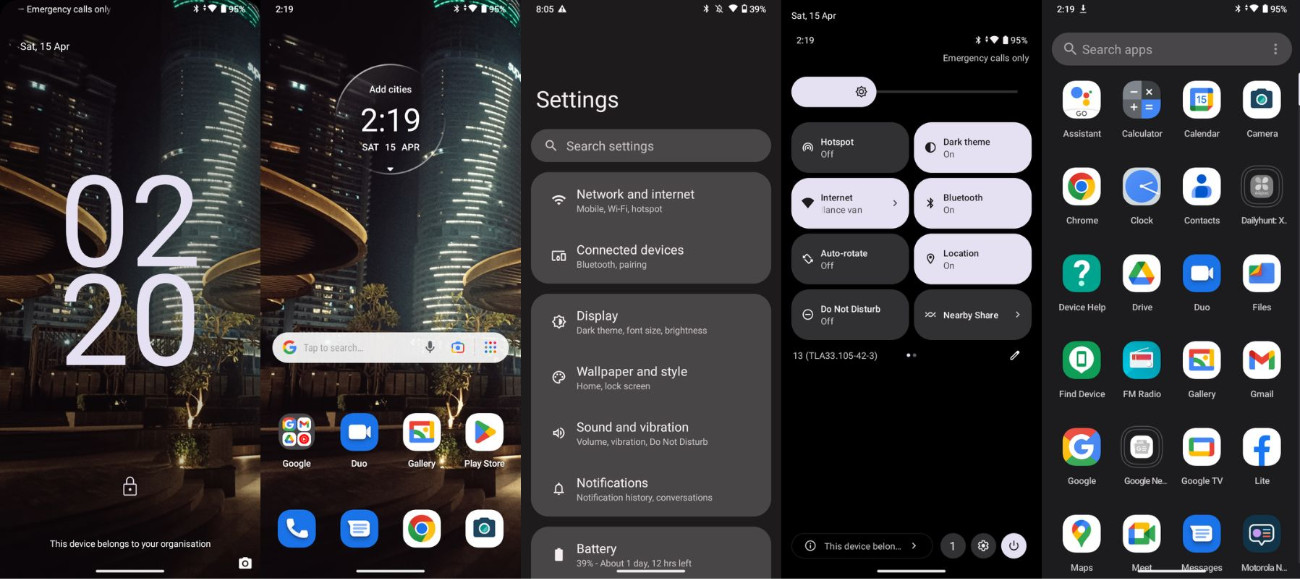 Android 13 Go on the Moto E13. (Image: Zohaib Ahmed/Indian Express)
There's no Google feed to the left of the home screen and My UX 13's awesome customisation features have been given a miss. A few Google apps have been replaced with their "Go" versions but the regular versions can still be installed from the Play Store.
Is switching to Lite apps worth it?
The Moto E13 boots into a slimmed-down version of Android 13 out of the box, and entry-level devices like these tend to emphasise more on "Go" apps, which are essentially lighter versions of your favourite apps. On this phone, I switched to Instagram Lite, Twitter Lite, and Spotify Lite since their regular versions exhibited poor scrolling performance, and noticed moderate improvements.
Is the lack of a fingerprint scanner a problem?
In a bid to cut costs, Motorola has given a miss to a feature that is now a staple across all smartphones – the fingerprint scanner. You're forced to depend on the less secure, janky face unlock instead, which obviously doesn't work in the dark and requires you to position your phone at a certain angle to work. Inputting the PIN when the face unlock fails is annoying and I really wish Motorola hadn't trashed a feature as crucial as this.
Is the lack of 5G a problem?
Despite the promise of 5G, its deployment is still nascent and unreliable. I have witnessed its blazing-fast download speeds on my other 5G-enabled phone, but that phone often dips down to 4G on Jio NCR. 4G remains the benchmark for network connectivity in urban areas – and it's here to stay – so 4G phones are still a viable option. 5G may take years to reach the same level of stability as 4G.
Verdict: Should you get a Rs 7,000 phone?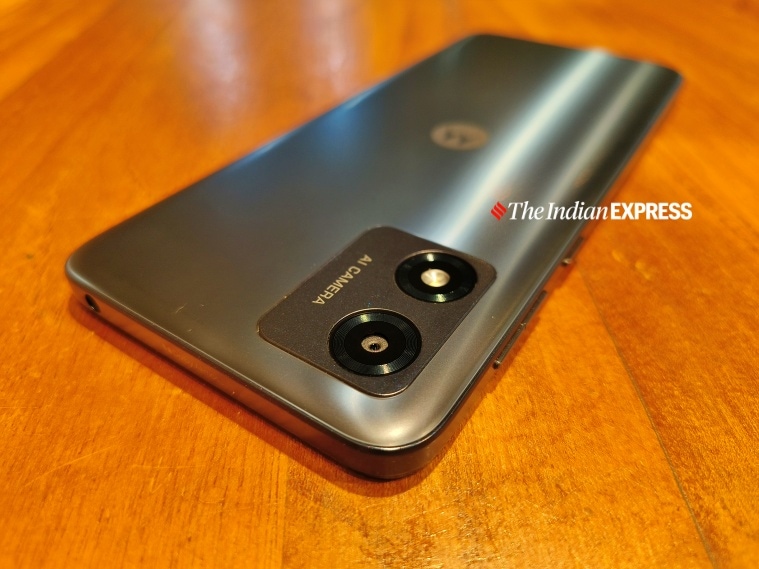 A no-frills camera setup at back (Image: Zohaib Ahmed/Indian Express)
If you are looking for a reliable and easy-to-use phone for your parents, grandparents, or younger siblings, the Moto E13 might be the ideal choice. The sturdy build should stay mint for years and stock Android is arguably the most user-friendly skin on the market. The phone also works well as a backup that you can use with another SIM card when your main phone runs out of juice.
However, if you can afford to spend a bit more or are purchasing the phone on EMI, then consider a phone priced around Rs 10,000, which fetches a lot more including a far better display, faster performance, and more capable cameras. Some of the other options worth checking out are the Moto G13, Moto E22s, and the Redmi 12C.

link