DANA POINT, Calif. (BRAIN) — New frontiers of safety are opening up in the technology world. Cars sensing bikes, bikes sensing cars, once little more than a pipe dream, is rapidly becoming a reality. One soon-to-be launched solution is Spoke, previewed at the Bicycle Leadership Conference.
Cyclists and the bike industry are eager for safety tech. Junko Yoshida is the editor-in-chief of The Ojo-Yoshida Report and a globally recognized expert on sensing and self-driving technologies. "There's a groundswell of interest globally in this advanced sensing technology," Yoshida said.
The National Highway Traffic Safety Administration issued the Advanced Notice of Proposed Rulemaking late 2020 and sought public comments on the issue of Automated Driving System Safety Principles. 
Yoshida was monitoring all the comments received by NHTSA.
"I was shocked to find out that the bicycle industry was by far the most active in submitting comments," she said. "It's clear to me that bike people have more vested interest in deploying this technology than any other user group."
Spoke's tech offering is a bicycle-mounted sensing unit about the size and price of a Garmin headunit and a downloadable or installable-during-manufacture software suite for cars with recent tech such as gauge cluster screens.
While Spoke's vehicle partner Audi was present at the BLC demos, other manufacturers can easily add the sensing technology during manufacture or as a downloadable upgrade after purchase.
Reid Sigety is the COO of Spoke USA, based in Denver. Spoke also has a European presence in Turin, Italy. "Over the past 10 years, vehicle occupant safety has dramatically improved. In that same time period we have seen a 37% increase in bicycle-vehicle crashes," Sigety said.
"For those of us who like to ride, the data is unfortunately going the wrong direction and something needed to be done," Sigety emphasized. "The good news is automakers are beginning to launch technology as standard equipment which provides direct chip-to-chip communication between vehicles. We knew applying this to a bicycle would give cyclists and other vulnerable road users the same advantage to see and be seen."
While the formal launch and product and software availability is still a few weeks away, Spoke has a firm foundation. "Spoke has been self-funded to date and has invested over $11 million over three years into developing the system standing on the shoulders of our partners who've invested hundreds of millions to bring C-V2X and LTE/4G/5G technology to the state of implementation," Sigety said. "Spoke will soon announce our corporate and venture partner investors representing automotive, bicycle, and motorsports."
Spoke is launching with bicycle OEMs where the systems would be attached to bicycles like an after-market computer or light for the 2024 model year and integrated into componentry such as stems for 2025.
"A typical high-end bicycle computer costs $400. Similarly the Spoke Vision would likely be something a bicycle OEM would retail in that same price range," Sigety noted. "A non-connected bike radar light costs $200 and we would expect an OEM to sell our Spoke CV2X Connected Light in that same price range."
As far as OEMs partnering with Spoke, several discussions are ongoing with NDAs involved. Alta Cycling is one of the brands working to collaborate with Spoke to make the technology available to their Diamondback bike buyers.
"People are scared to get hit by cars," said Kurt Hall, Alta Cycling Group's senior design and development engineer. "Anything that can give them confidence will get more people on bikes and more people buying bikes. Hopefully that's the goal for everyone."
Hall sees the urban commuter rider as the target market for Spoke technology. "We all cycle in traffic. People who ride a lot with good bike handling skills are OK, people who aren't used to mixing with cars are the ones who need it."
Diamondback-branded bikes will be Alta's first use of the technology. "If everything went perfectly, we'd see Spoke on model year 2024 bikes. It will be an Alta product with Spoke technology inside," Hall said. "Cars seeing bikes, bikes seeing cars is the future. Until that happens, we're all sitting ducks," he concluded.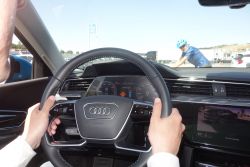 Another tech solution years in the planning and years from full roll-out is a consortium of 11 tech, auto and bicycle companies under the Tome banner. Trek, Specialized, Shimano and SRAM are consortium members, along with Ford and General Motors.
Tome launched their concept at the BLC in 2018, with public demonstrations a few months later. Jake Sigal, Tome's CEO, explained their strategy. "We are aiming to have bicyclists be detected from existing infrastructure," Sigal said. "Tome is like ABS or airbags. Standardized tech for all messages through mobile phones and low-cost sensors that cost dollars, not hundreds."
"The hardest part is having the infrastructure sensing that it's a bicycle, not something else," he continued. "There's a lot more work to be done before commercialization." As far as timing for a full Tome roll-out, "It had better be within the next decade, preferably in the next five years."
Spoke demonstrated its technology to media and industry members at BLC and the Sea Otter with real-time GPS/GNSS accuracy. "Because of Spoke's patent-pending hardware and software algorithms, the ground-truth accuracy is well within six inches," Sigety said.
Demonstrations included tracking the bicycle position continuously being displayed in the Audi instrument cluster. Clearly shown were blind-spot detection, right-turn assist, left-turn assist, intersection movement assist, bike ahead/car behind, and lane departure in real time.
"The BLC was our first public event," said Sigety. "The response was absolutely as we had hoped. The BLC also provided a platform to meet like-minded industry OEMs and drive system makers, to help identify the forward-leaning collaboration partners to invite into the Spoke ecosystem." 
For those of us mixing with traffic every day, progress like this can't happen too soon.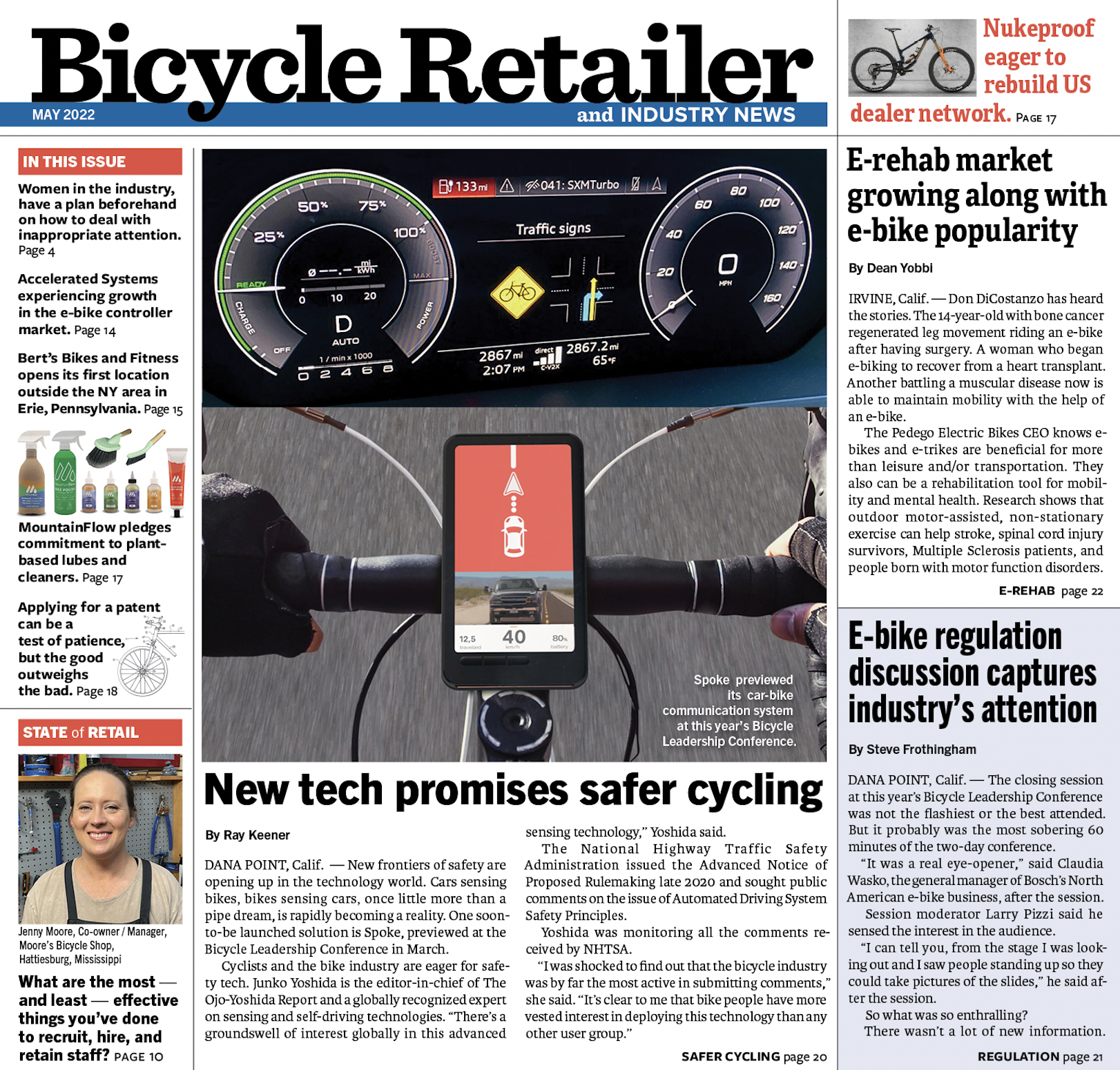 link