A group of women at the Federal Reserve Bank of St. Louis was prompted to act after attending virtual seminars in 2020 and hearing statistics about women in STEAM.
But let's start with, what is STEAM? It is the study of and careers in the fields of science, technology, engineering, arts and mathematics. Members of the St. Louis Fed's VIEW (Valuing, Inspiring, Empowering Women) employee resource group learned that the number of women in STEAM was decreasing, and a high percentage of women were leaving their chosen STEAM career after about five years.
Suddenly, the text messages started flowing between VIEW members. What can we do? How can we have a bigger impact? What are we dealing with here at the St. Louis Fed? Some VIEW members, who are also executives in information technology and executive offices at the St. Louis Fed, went to work to impact the presence of women in STEAM at the Bank.
Here's a look at the background of women in STEAM and what we can do.
Why Focus on Women in STEAM?
An "A" for "arts" recently was added to "STEM" to round out educational subjects, and most importantly, to reflect that those in the arts field have begun using technology to produce works such as digital fabric, sculptures and murals.
Why focus on women in STEAM? Gargi Dasgupta, a research and technology executive at IBM, had an answer to that question.
"Women are 50% of our demographic and hence not having their accurate representation would mean all decisions we take are going to be nonrepresentative of the true population," Dasgupta said of bringing more women into the workplace in an ETCIO.com interview published in March 2020.
"There are some inherent qualities which are gender-neutral but historically show up more in women – good collaboration, good listeners, effective communicators, mediators, multi-taskers," Dasgupta added.
What's the History of Women in STEAM?
There is solid evidence of women being the quiet heroes in STEAM fields, making technology work without being acknowledged.
For example, in 1946, women coders helped make the first computer work. But their work on ENIAC (Electronic Numerical Integrator and Computer) wasn't recognized at the time. And people who later saw the coders in photographs published with articles about ENIAC thought the women were just models, according to a History.com article first published in 2017, "When Computer Coding Was a 'Woman's' Job."
In the 1940s, the aeronautics predecessor to NASA hired a group of Black women who later used their math, coding, and engineering skills to help give the space agency the ability to have a huge impact on the world. These women were unsung heroes until a 2016 book, "Hidden Figures," and a 2017 movie of the same name brought their stories to public attention.
Have Women Really Made Inroads in STEAM?
The U.S. Census Bureau reported that in 1970, women made up 38% of all U.S. workers and 8% of STEM workers. (See infographic.) However, by 2019, the STEM proportion had increased to 27% and women made up 48% of all workers, according to the Jan. 26, 2021, article.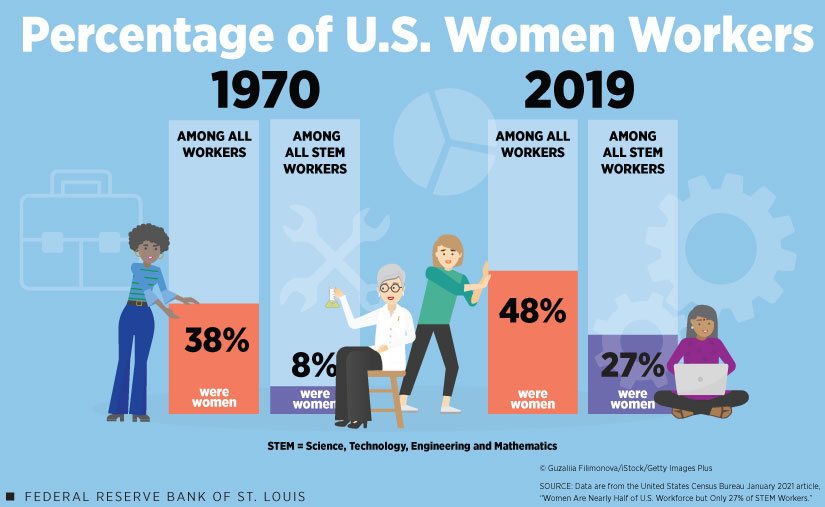 NOTE: Data points don't include "arts" and are for science, technology, engineering and mathematics only.
News outlet MediaFeed.org reported that, "Women have made progress because of increased opportunities and companies being more mindful of improving their diversity by having women at the table." The Dec. 11, 2021, article goes on to say, "There are also financial support programs to encourage young women to pursue STEM careers." But much work still is needed to achieve equity and equality.
Called to Act
Many women leaders in STEAM hope for an environment where they are represented in the same way as their male counterparts, and yet, here we are today still hoping and wondering what it will take. Women still lag in being represented in STEM fields all around the world: Only 35% of STEM students in higher education globally were women, according to a 2017 report from UNESCO (United Nations Educational, Scientific and Cultural Organization). Changing the direction starts with one conversation—to spark an idea and to lead an organization to focus on women.
To combat this, the VIEW members developed "intentions" to guide the actions:
Develop a sense of community at the Bank for women in STEAM.
Provide an environment where women can discuss their challenges.
Create a networking opportunity for women across all areas of the Bank to share their ideas and support each other.
With this new view in mind, we began listening to the women at the St. Louis Fed: What are they dealing with? What inspires them? What do they need?
Women IT Executives Discuss the Issues
To address this, we had our first of three panel discussions about women in STEAM.
On our first panel, Information Technology Division executives Angie Schelker and Renea Daesch took time to have a transparent and authentic conversation about their experiences, challenges and successes.
Schelker joined the St. Louis Fed in January 2021 as vice president, Information Technology. Prior to joining the Bank, she had already had an extensive career in IT and financial services, with a focus on leading the delivery of custom applications, analytic solutions and global strategic program management for organizations including Mastercard, Enterprise Holdings Inc. and Ernst & Young.
Renea Daesch joined the St. Louis Fed in April 2021 as the assistant vice president of Treasury engineering. She has an extensive career in IT, leading the design and implementation of custom-developed enterprise-scale applications, integration and implementation of commercial off-the-shelf products and helping businesses take advantage of enterprise-class cloud solutions. Previously, she was the vice president of global information technology for BW Papersystems and is a retired U.S. Army senior civilian who supported the Department of Defense logistics and transportation mission.
Ideas from Women Leaders in STEAM

Daesch and Schelker had some suggestions for how women can elevate their presence in a STEAM field, including:
Market your STEAM skills. Let everyone know what you are capable of.
Focus on your strengths and your achievements.
Guard against negative self-talk.
Radiate optimism: Bring life and vitality into conversations.
Have your outward behavior change your internal feelings.
Ask questions of others: Show interest in what others are doing and saying.
Our goal is to create a ripple effect at the Bank and throughout the St. Louis community as we help women leaders in STEAM find their voice, be proud of their skills and excel exponentially.
link